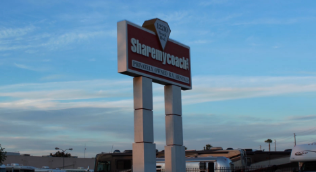 Novato CA R.V's
Sonoma / S F Bay Area Area
RV Rentals Northern California Located in Novato 30 mins north of San Francisco
Quick details: We have a 5-7 day minimum on holiday weekends A Class and Sprinter RVs have a 5-7 day min starting May 23rd to Sept 4th B & C class RVs & trailers have a 4 day min starting May 23rd Sprinter RVs have a 4 day minimum in the off season We charge per day, not by night, so you get the full use of each day You can pick up as early as 9am on your pick up day. And return as late as 5pm on return day Yes we are open for returns on Sundays, and no check out/pickups on Sundays. Free secure parking on location while on your on your trip. Labor day weekend has a 5 day min! Fourth of July week has a 5 day min and no pickups on the 4th-7th Travel through Death Valley from May 1st to Sept 31st is not allowed!
All vehicles in Sonoma / S F Bay Area
Quality RV rentals are easily accessible in your area! Our Novato, California location serves the Sonoma & San Francisco Bay area of Northern California. You can find us on Deer Island Ln, near the Deer Island Preserve in Novato. Stop in and explore our huge RV rental inventory today. We have a wide selection of Class A, B, and C vehicles, as well as Toy Haulers, Travel Trailers, and Utility Trailers - all available to rent and ready to drive! Our Novato location has a friendly, professionally-trained staff that can find you a great RV built by a trusted manufacturer and equipped to handle your recreational or vacation plans. Our RVs are all safe, well-maintained, fun to drive, and we'll never cover them with tacky advertisements.
Novato is located in Marin County, in the North Bay region of the San Francisco Bay Area. You'll find travel trailers, motorhomes, and toy haulers for rent at this location. If you're in a different area, we have multiple alternate RV pickup locations in Stanton, CA, Ontario, CA, Riverside, CA, and Apache Junction, AZ. Stop by any of these rental centers today and get your RV adventure started!
Based out of Northern California, 10 minutes from the magnificent wine country and 40 minutes from San Francisco, you will be able to begin your journey with many sightseeing opportunities, fresh food and true California natives. Our family has lived in the area for over 30 years and can provide all the information you need to plan and begin your journey. We provide late model motor homes, travel trailers, toy haulers, and RV's for rent. The planning process is made easy with our friendly, helpful and energetic staff at ShareMyCoachSonoma.com. Take a look at our helpful LOCAL CAMPING link to preview a plethora of campsites across the country. By renting one of our privately owned recreational vehicles you will save on the high costs of hotels and truly experience the great outdoors in the comfort of your second home. Have a curiosity for the bay area? Check our EVENT CALENDAR for local events and festivals. We also provide package deals that include tickets, and a camping space for some of the most popular events in the area. Inquire within about our affordable rental packages and begin your journey today! We welcome you to the beautiful Bay Area and wish you a pleasant experience.
Luxury RV Rentals:
We have many different luxury RV rentals to choose from, and since all are our luxury RV Rentals are privately owned, they are fully loaded with all the best features to make your trip or vacation even more enjoyable. Luxury Motorhome Rentals serving Northern California and the Bay Area(San Fransisco, CA).
RV Owners:
Would you like to make some money on your RV? ShareMyCoachSonoma.com can help! Now serving Northern California, ShareMyCoachSonoma.com can allow you to make money on your RV! Our rental program can help you offset your monthly payment and maintenance/storage costs, while providing a tax write off as well! With our program you would be able to use your privately owned RV at any time. It will be well maintained and ready to go for any adventure that comes your way. We will also provide any additional services/upkeep needed. Please view the NEW OWNER REQUEST link for more information and call/email our offices to inquire about our excellent program. Rent your RV today!